The UK is facing a housing crisis
The FTI Consulting report 'Understanding supply constraints in the housing market' for housing charity Shelter found that for decades the supply of housing has fallen short of the level needed to meet demand.

FTI Consulting
Year upon year the demand for new homes is outstripping that of the available supply. Whilst this problem is a complex one, a major factor causing the shortage is the lack of suitable land upon which homes can be responsibly and sustainably built.
There is a need to balance the protection and preservation of countryside and communal open spaces and to prevent unsustainable developments, whilst simultaneously meeting the constant demand for new housing and urban expansion.
At Hydro we offer a solution to this ever growing problem. Using leading edge building technology we can safely and sustainably build all types of residential and commercial structures on area previously considered unviable; such as flood plains, land at risk of flooding and unutilised areas of water.
This unique ability opens up vast areas of land for safe development reducing the pressure to build on the green belt, Metropolitan Open Land and other areas of ecological and social value.
Hydro offers a practical, intelligent, cost effective and sustainable solution to the UK housing shortage.
Savills has estimated that the shortfall in homes in the south of England will reach 160,000 in the next five years.

The biggest deficiency is in London, where 14,400 more homes a year are needed to meet demand than are planned for by the Greater London Authority (GLA).

The Guardian – Monday 19 2014

Net increase 1996 – 2016
Source: Rowntree report* excluding London
(x 1,000 houses)
Source: Joseph Rowntree foundation
We cannot fight floods. Rain will always fall.
Over 5.5 million properties in England and Wales are at risk of flooding from rivers, the sea or surface water. That's one in six, which means there's a high chance one of these properties is your home or business

Environment Agency – latest figures
With annual rain fall set to continue to rise, areas currently not at risk may well become vulnerable to flooding in the foreseeable future
1
. Even if you don't live near a river, lake or the sea you may still be at risk of flooding from increases in surface or groundwater.
Over the last few years millions of UK householders and businesses have seen the devastating effects that floods can have. In 2007 around 48,000 homes were affected, each costing between £20,000 and £30,000 to repair and some 30 per cent of households were forced to relocate to temporary accommodation, one third of which for more than a year2.
Overall the flooding cost the UK 3.2billion pounds3, but the effects of a flood are much more than just financial, with belongings and precious memories being washed away overnight.
Floods are a reality of nature and it is not technically feasible to reduce all flood risk, nor is it possible to defend against all floods in all areas.
We cannot continually fight water, we need to learn to adapt to it.
Hydro homes and buildings work with nature, harnessing the power of water to create an intelligent solution to flooding. Our climate proofed buildings both resist and accommodate water to the benefit of their occupants and the surrounding community.
1. The UK is set to see about a 10 per cent rise in annual average rainfall by 2100 (right) compared to the period 1985-2005 (left).
Source: IPCC 5th Assessment Report (Summary for Policymakers (p20)
2. EA Report 2007 – The costs of the summer 2007 floods in England
3. EA Report 2007 – The costs of the summer 2007 floods in England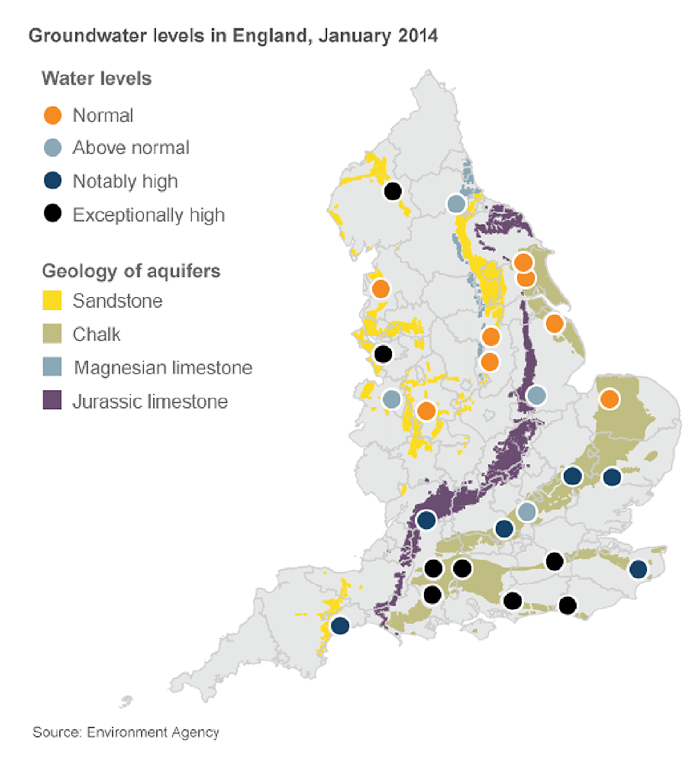 Flooding in England and Wales by 2080s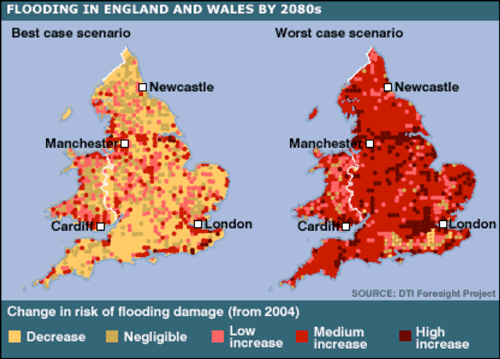 Source: http://news.bbc.co.uk/
The image above shows possible best and worse case scenarios for the flooding risk to Britain over the next 80 years. It was based on a government study that estimated the cost of damage from flooding and coastal erosion could rise 20 times over the next century. The report predicted the communities likely to be worst affected would be Yorkshire, Lancashire, Lincolnshire and the South East.
CONTACT US
Land Required
Please contact us with land and property development opportunities.
CONTACT US